Amagansett Historic Renovation I Hampton Design
Hamptons historic renovation in Amagansett
Amagansett Historic Renovation
In this historic Amagansett home built over 100 years ago, the goal of Hampton Design was to preserve the original, characteristic features of the space, while creating a design aligned with client's taste for the contemporary and artistic-eclectic.
Historic structural elements were preserved while simultaneously streamlining and modernizing comforts and appliances. Colorful accents convey a touch of whimsy and eccentricity, such as the signature and zany geometric-patterned floors in the kitchen.
Location
Amagansett, New York
Year
2017
Type
kitchen & bath, interior design, project management, spacial planning
Kitchen
The goal throughout the home was to preserve and reinvigorate original elements. Hampton Design repurposed the original cabinet doors in the kitchen and installed a traditional subway tile backsplash, polished chrome fixtures, shaker doors and pantry doors with glass uppers. To convey the client's character and boldness, a loud geometric Cle Tile cement floor was used (rebuffing many of the trends out here), while still accentuating the tradition of this classic home. The new kitchen appliances are GE Monogram and Hampton Design custom-created the new floating walnut island and Caesarstone countertops. French doors now lead directly outside to the deck and a large entrance at the right connect to a newly-redesigned Butler Bar.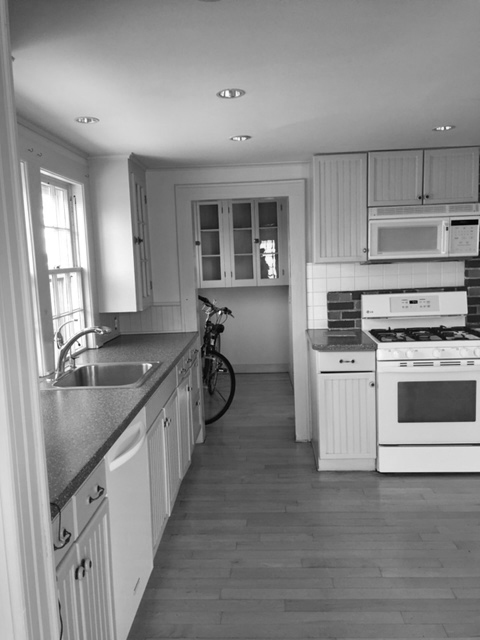 Butler's Bar
To the right of the kitchen is the bar area, featuring a Sub-Zero wine cooler and built in cubbies for wine bottles. The clean, modern floating shelves accentuate the ornate yet funky wallpaper by Cole & Sons. To maintain the historic elements of this 100 year-old home, we simply refinished the original floors using a dark stain.
Master Bath
The master bathroom is a playful melding of historic-futuristic with traditional white vertical wainscoting, floating vanities and clean, crisp edges in fixtures and porecelian tiling. The clean elegance of the Carrara marble counters and tub top are accentuated by the sharp lines in the large 16x24" porcelain floor tiles. Their symmetrical shape is mirrored in the modern rectangular Robern inset medicine cabinets above the custom-made floating vanities.
Dining Room
Like the T.V. room, the formal dining room also has Hampton Design custom-built bench seating that was designed to meld with the space. This room also maintains the original wood floors and light fixtures that were inherited in this historic Amagansett home. Original materials, such as these light fixtures, were thoughtfully preserved and accentuated by the Hampton Design team.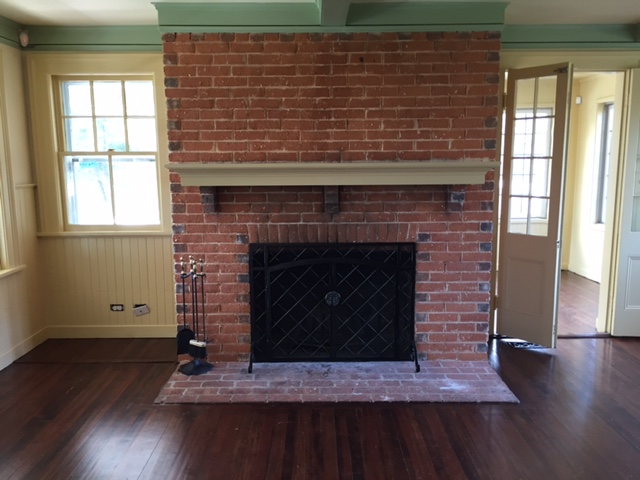 T.V. Room
This room contains the home's only television and Hampton Design sought to create a comfortable space that was traditional yet funky. The original screened-in porch was enclosed while maintaining the brick facade (now painted white) and original hardwood floors. The Hampton Design team created custom warm-plum-colored bench seating and played on traditional "den-style" wood-paneling that is complimented the Minka ceiling fan.